secretly, i hoard makeup. i rarely use anything except for my favorite staples, so why? because i get suckered..really hard..into packaging. not to mention, those aisles by the register are the freaking worst. not only do i buy things i definitely know i won`t use, i lose most of it. finally though, buying new things has gotten me to change up my routine and helped me find some really great things i love.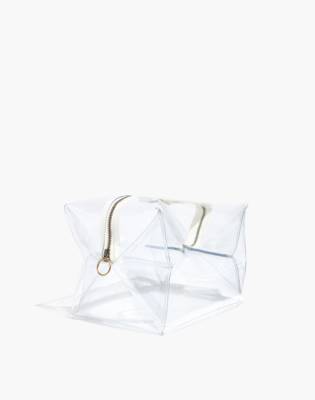 i found

this makeup bag

at madewell on my lunch break..i love being able to see everything `cause i still do my makeup in the car.. X.X
i
PRIME
my face with becca backlight priming filter. it gives your skin such a pretty glow..on my good days i just use this and some concealer. most days though, i need a
FOUNDATION
with good coverage. if you`ve been following me for a while, you know i swear by the giorgio armani luminous silk foundation. it was only recently that i wasn`t able to color-match my skin. the becca ultimate coverage complexion creme has been doing the trick. to
SET
everything, i`m still using the too faced primed & poreless. it`s lightweight and helps keep everything in place.
some things change, some things don`t. the too faced chocolate soleil is still my all-time favorite
BRONZER
. i love that it`s matte and has no shimmer. i was never really a fan of
BLUSH
until i tried the giorgio armani ones. i own a few and use a different color depending on the day. no surprise to anyone..i`m still obsessed with all things that
HIGHLIGHT
. the becca champagne pop by jaclyn hill is hands down my favorite. i will say that the color doesn`t work for everyone..
my
BROW
is always going to be anastasia. i went from the brow whiz to to the perfect brown pencil. the
EYELINER
will always be the urban decay 24/7 in perversion. it`s always the darkest liner and i like the subtle shine. lately i`ve been adding a little sparkle. i really like urban decay moondust
EYESHADOW
. all the colors are really pretty but i only own diamond dog. i`m a huge fan of fun
WATERLINERS
and really like buxom hold the line eyeliner in come over. and last but not least, i always use
LASHES
from house of lashes.