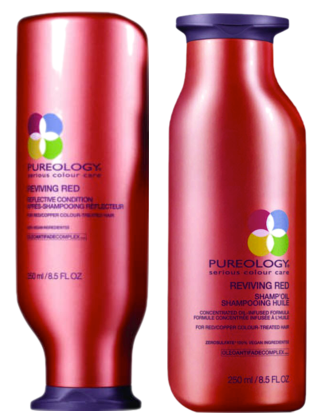 i`ve been using pureology for years now and i find that it makes a HUGE difference in preserving my color. for red specifically, this is the only shampoo/conditioner i recommend because a) it works the best and b) it`s made just for red hair. even if you wanna skimp on hair products, this is the only thing i would NOT go cheap on! i always forget to mention it, but pureology is also one of those no-sulfate brands. they`re a little different because they don`t sud up like "most" shampoos and it`s used a little differently.

i wish there was an easy way to describe how i wash with my without actually showing you haha. pretty much i wet only my hair with super cold water. cold water locks in your hair follicles so the color doesn`t seep out (like pores, the follicles open with heat). this also really helps me maintain my color! after i wet my hair, i put the some shampoo in my palm and add a little bit of water. i rub my palms together and wash my roots first. i have so much hair i need to repeat this process for the back of my head. once your roots are done, i move the shampoo i already have in my roots to the middle and ends of my hair. this way, im using less product as well as preventing my ends from drying out. for the conditioner, i put some in my palms and work from the ends up. pretty simple once you get the hang of it!

oh, another important thing! try not to wash your hair too often! you`re actually stripping out your hair`s natural oils when you do that, causing overproduction in oil (hello greasy nappy hair) and dryness. at most, i wash my hair 2-3 times a week. you`ll have to train your hair in the beginning to not over-produce oil..but it`s so worth it!



PREP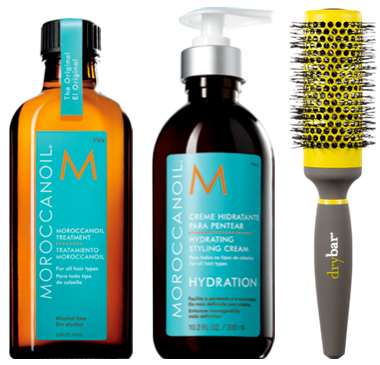 once my hair is towel dried (pat..don`t rub or go crazy trying to dry it with the towel!), i use a wide-tooth comb to remove some of the tangles and to prevent more split ends.
then, i mix a few pumps of the styling cream and moroccan oil together in my palm and work it into my hair starting from the ends because that`s where my hair is most damaged.
normally, i`ll dry my hair while i finger-comb it. but if i have time and i`m not lazy, i`ll use a boars hair round brush. here`s a great
tutorial
by anna lee! however way i blow dry it, i always make sure the nozzle is on the hairdryer and i dry with the air blowing downwards. i also section my hair `cause it`s naturally thick!
STYLE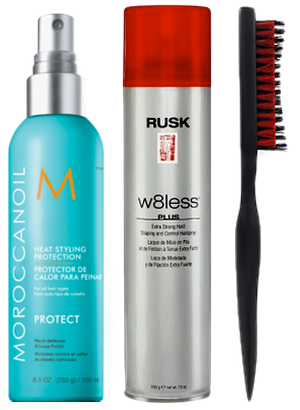 m-r i don`t really heat-style my hair (because it strips the color out..again heat=open hair follicles), but when i do use a heat tool, i first spray my hair with heat protectant from moroccan oil (they have the BEST smelling hair products! to keep the my hair curled all day/night, i only use rusk w8less hairspray. it`s the only hairspray that holds my hair for days! it`s also a bonus that it smells good and doesn`t leave my hair crunchy.

i get a lot of questions about how i get all that volume in my hair, so i`ll talk a little more in depth about that. first of all, i have a lot of hair and it`s naturally thick and coarse. that being said, it`s a little hard to control sometimes. since it `s already so full, i don`t have to do much for volume, but on those nights out..i`ll tease it. the two tools you`ll need is a good teasing brush (the one i linked is the only one i use!) and hairspray. you wanna make sure you use enough hairspray `cause more thank likely your hair needs texture to hold on to! also, tease in small section. it may seem like more work, but you`ll never have to go back and re-tease it! to tease, hold the section of hair up taut. starting from one-two inches away from the roots, move your teasing brush downwards and pull out. kinda like raking leaves. repeat and move upwards in sections. you`ll damage your hair less and also get more of the "nest" to build the tease. i do a few layers of this up to the crown area of my head and lightly smooth down the top layer to hide the "nest". finish off with a little bit of hairspray to set and you`re good to go!
EXTRAS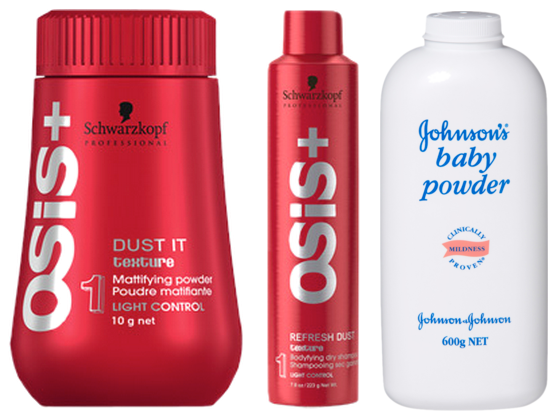 because i don`t wash my hair that often and i don`t like the look of clean hair, here are some of my tricks for keeping my hair looking good in between washes. for the first day only, i apply a teeny amount of osis+ dust it to add some texture. if you add too much, your hair will get gross! for 2-3 days, i either use osis+ refresh dust or baby powder as a dry shampoo. i find that these two work best for my hair and don`t make my hair smell worse (does anyone ever feel that sometimes dry shampoos make your hair smell even dirtier than it is?!). i prefer the baby powder because it`s cheaper, readily available, and also i feel like it has less chemicals if it`s meant for baby skin. i just throw some in my palms and work it into my roots. this can also be used to give your hair a little bit more natural volume!


COLOR
sorry guys, this is the only part i can`t share with you! i get my hair professionally colored so it`s hard to ask her what she uses! also, she mixes a different, customized color for me every single time..so it`s even harder to pinpoint. all i know is i got the best red hair in chicago! so if you want something similar to mine..you`ll have to go to my girl personally! her information is listed below in the q&a.
@cosantos @bubbbba89 @lowstoluxe: how do you get your hair so voluminous?
i have naturally thick and full hair, so it`s pretty voluminous on its own! for those days/nights that i really want to amp it up, i tease the crap out of it! the trick is to use a good teasing brush (i swear by this exact one) and hair spray! my favorite hairspray is the rusk w8less i mentioned above. there are some common problems i see:
1. not using enough hairspray (you want to spray the whole section before teasing)
2. not doing enough small sections! it takes longer, but smaller sections and tons of it in the crown!
3. going up and down your hair with a teasing comb/brush! you`ll only damage your hair this way! hold your section up taut and pull down with your tool once a little away from the root. remove the tool, go up a little higher and pull down again. repeat 3-4 times depending on hair length. you`ll be building kind of a nest, which is what creates the volume.
also, lightly smooth down the top layer when you`re done teasing, if you go at it..it`s gonna flatten everything out again!
@mszjennbby: how often do you wash your hair & in between care?
[do you] conditioner all over?
i wash my hair 1-2 times a week. (see above for what i use and how i use it!) in between, i used baby powder instead of dry shampoo. to me, some dry shampoos actually make it smell dirtier! so the baby powder keeps it fresh and it has less chemicals. pretty sure if it`s meant for a baby`s butt/skin, it`s good enough for my hair! i only condition the ends of my hair (more in depth details above!)
@halethiphan: i also live in Chicago and was wondering where you get your hair done + tips to maintain it. my second question was what "techniques" do you do to have it fade less? i`ve dyed my hair red before and it faded very quickly.
one of my best friends owns

Haute Hair Salon

in a southwest burb of chicago. she does all my cuts and colors! my tips for maintaining the length and healthiness is to get regular baby trims. also, eating clean & balanced diets really help it grow longer and stronger! as far as maintaining the red, i only use the shampoo/conditioner above and i wash with ice cold water. i only wash my hair when necessary, which is about 1-2 times a week. the combination of super cold water and washing it less really helps the color stay intact! also, using heat tools like straighteners and curlers strip your color, so i try not to style it too often heat tools! be sure to use a heat protectant!
@mrwata: hi, how often do you maintain your color? i want to try red, but i`m afraid of the maintenance... also, what color red are you using right now?
i color my hair every 2-3 weeks! and that`s stretched far because i maintain it so well with washing it with good shampoo and ice cold water! red fades the quickest, so it`s the hardest to maintain. before your roots even grow out, it can already start to get brassy or pink. i would only suggest someone go my shades of red if they have the time and $$ to keep up. it`s shitty when you realize how much you`re spending on hair, so i don`t want it to come as a shock to you when you`re already committed! as for the color of red..i honestly can`t say because it`s mixed differently and especially for me every single time i go in. it`s never exactly the same as the time before! i would get a consult with a good colorist to see what options for best for you
anonymous: i have really dry and damage treated hair but i use a oils, masks, and conditioners all the time. why doesn`t it work..how do you keep your hair so healthy?!
contrary to popular belief, all those things actually dry out your hair if you use it too often! i condition when i wash my hair (which is at most 2-3 times a week), but i only deep condition once a month. the reason that your hair is drying out is because it`s over-producing protein. it`ll cause dryness and breakage! give your hair some time to recover and it should get better!
**disclaimer: i`ve cut my hair since putting together this post, but everything else remains the same!**