so i may have done a little damage today..but i never skimp on my skincare.
i`ve written a few posts about my eczema and the stuff i use, but here is an update.
all items were purchased by me from the amore store and the face shop.
the damage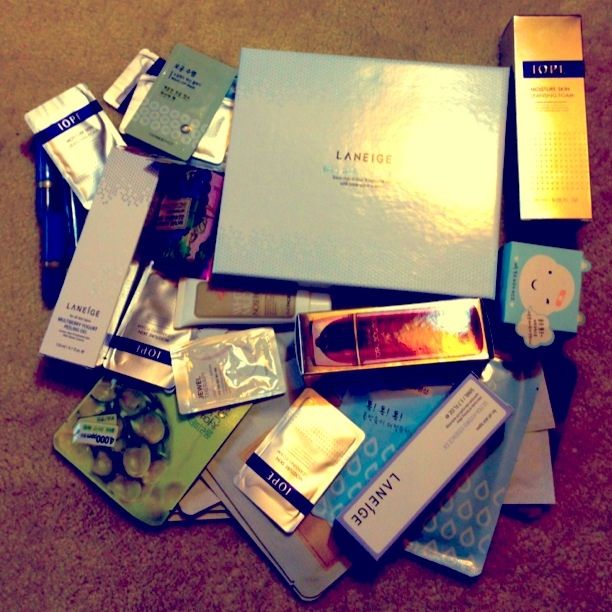 not much has changed, but i ran out of a lot of my stuff at the same time so i waited to get it all at once.
cleanse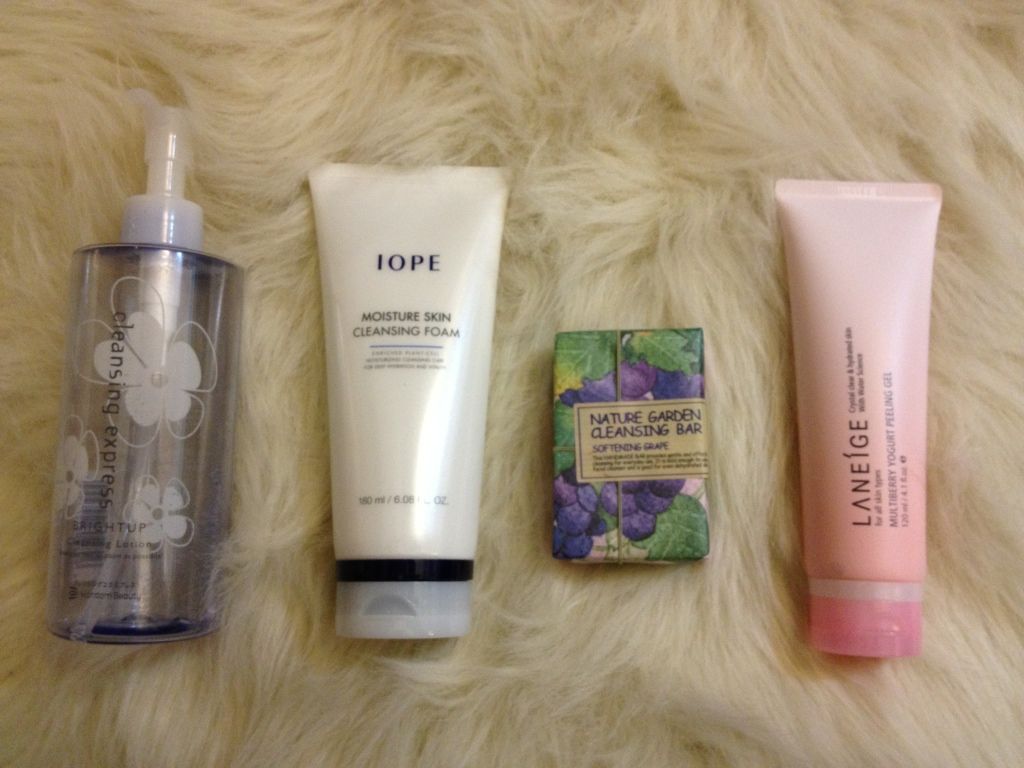 mandom cleansing express:
i love using this to take my makeup off. it`s extremely gentle gets everything off in just a few pumps and two cotton balls. the thing i love most about this is that it`s like water. there are no oils, which really irritate my skin and actually make me feel dirtier. i have to thank pink for raving about it on her blog for years now. unless i`m on the go, this is the only makeup remover i like using.
iope moisture skin cleansing foam: after i take my makeup off, i wet my clarisonic and use just a tiny squeeze of this. it foams and lathers realllly good and makes my face feel super clean and refreshed. because i have eczema, everything i use has to work for my sensitive skin. cleansers use to be my number one problem because my skin would feel raw and very painful after washing. this one is gentle and leaves my skin with enough moisture that i don`t feel all dried up right away.
the face shop nature garden cleansing bar in softening grape: some days, i like to switch up my soaps. this one is great for sensitive skin because it`s made with grape, which is really good for your skin. unlike other bar soaps, this doesn`t dry me out at all, but leaves me feeling extremely squeaky clean. i kid you not, you can feel your pores being cleared out haha.
laneige multi-berry yogurt peeling gel: along with cleansers, exfoliators are such a pain. i need it because i have dry patchy areas sometimes. but this is the only exfoliator that removes my dead cells gently. i used to use the strawberry one, but they discontinued that for this "flavor". it`s the same formula, so it didn`t make a huge difference to me. this may not work for you if you need to exfoliate regularly, but i only use it on the areas i need at the time. although, i don`t recommend using an exfoliator all the time anyways.
moisturize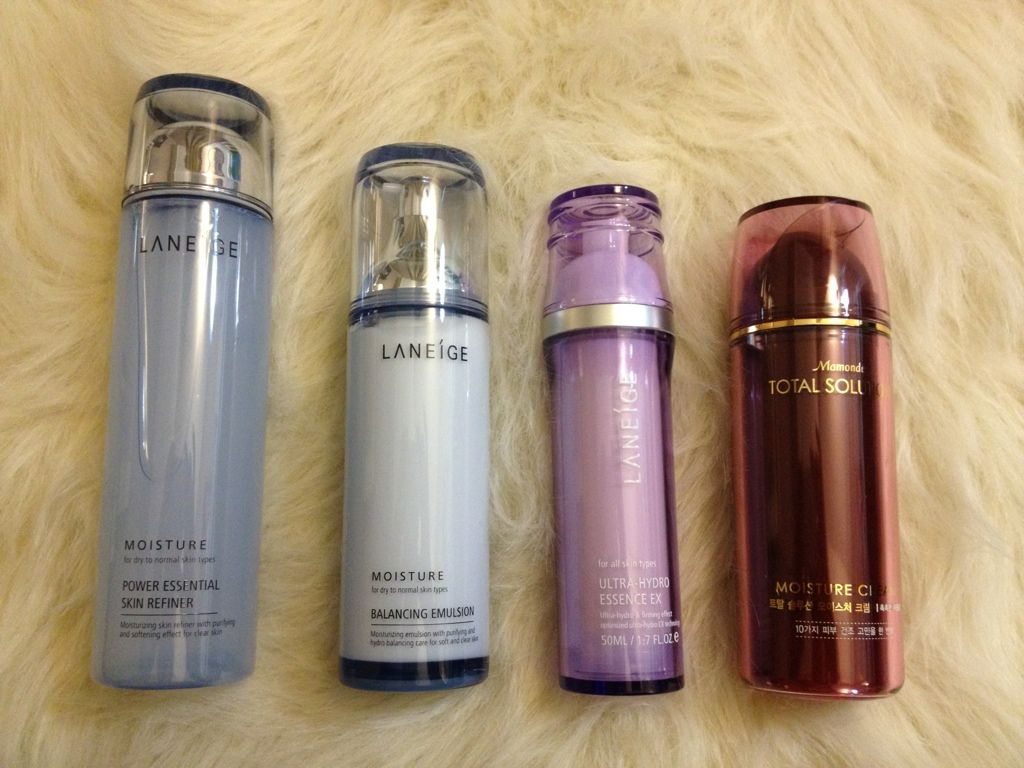 i used to use the laneige ultra-hydro line, but they discontinued it, so i had to get something new this time. they did keep the essence though, which i don`t quite understand. i`ll be honest, i can never remember what each step is for, but i do know that for myself at least, i HAVE to use each step twice a day in order for my skin to be at its` best. so this time, i got what my SA recommended: laneige moisture toner & emulsion, laneige ulta-hydro essence, and mamonde total solution moisture cream. i never used anything from the mamonde line, so i hope my skin doesn`t freak out. one time, i got the iope line, but i used it for 2 days and my skin went crazy bad, so it`s just sitting in a drawer now. from then on, if i know something works really well for me, i don`t try to experiment. i suggest asking the SA for suggestions because they really know what they`re talking about.
maintain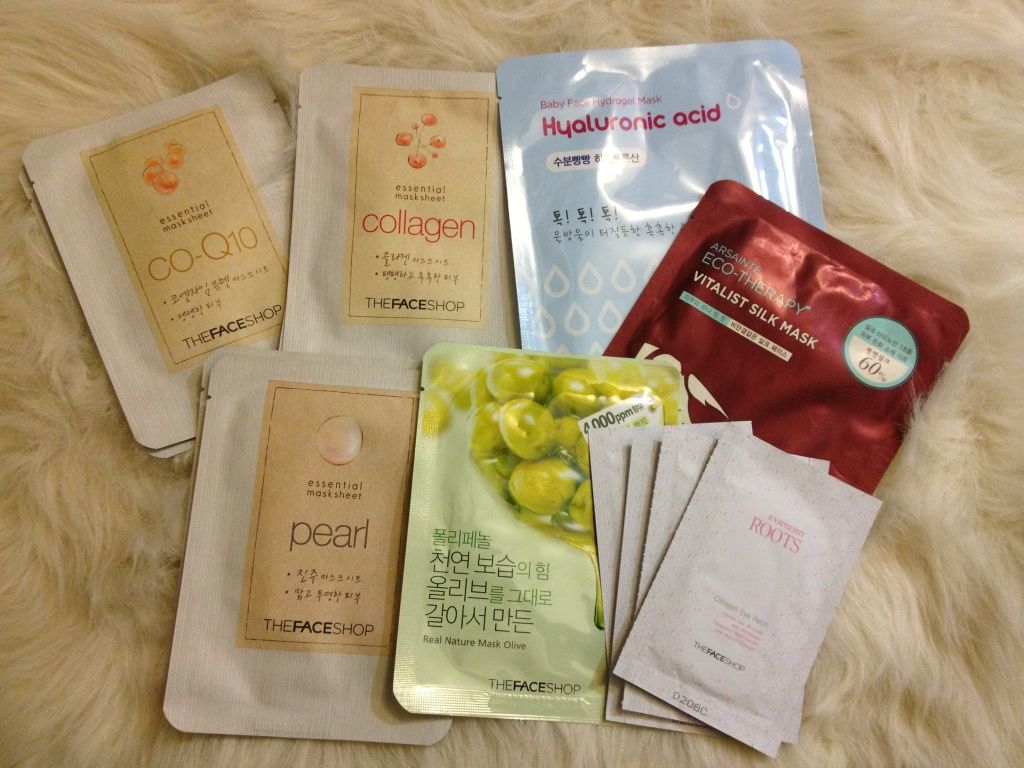 i also bought more masks, even though i still have a bunch of my beauty diary ones from when my brother went to taiwan. i just couldn`t resist, and i do use masks pretty frequently. i usually throw on a mask at least 2-4 times a week. there`s a ton of variety, but i like the moisturizing, calming, revitalizing type masks. the face shop has their own brand which is actually one of my favorites. the other three masks are new ones that i`m trying, so hopefully those will work out. and the bottom right ones are my favorite eye masks! they`re gel and stay on so well. i prefer sheet masks because they`re easy to put on and i can still watch tv or do laundry while i have it on.
anddddd...
lovely me:ex magic pink powder mask: this was an unnecessary purchase..but it was so cute i couldn`t resist. seriously the packaging always gets me. there was also a pink one. i forget what the pink one was for, but this is for dry and flaky patches. it softens your troubled areas, which is exactly what i need. this is a leave on mask you put on after you wash and tone your face. you leave it on for about fifteen minutes and then you wash it off and continue with your normal ritual. i haven`t tried it yet, but i`m pretty excited!